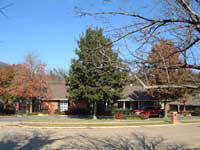 This website is a 'just for fun' collection of home, family, hobbies, pastimes, sports, and vacations in our lives.
(It's mostly Ken-stuff (because I created it) but there's Judy-stuff in here, too. )
A little history:
Judy and I met in 1965 just before our senior year in high school. Her family moved to Gar
land from San Antonio; we met during one of her visits here prior to her family's permanent relocation. We graduated from South Garland High School together in 1966. Judy went to Baylor in Waco and I attended Stephen F. Austin College in Nacogdoches. After 3 semesters of college, we married in 1968 . We were both only 20 years old then. We celebrated our 40th in 2008.
With the draft breathing down my neck, I enlisted in the Naval Reserve, went to Navy Communications "A"-School in Pensacola, Florida earning top grade in my class. That allowed me to choose my active duty station of Homestead, Florida. Judy and I lived off-base during active duty. In Homestead, she worked as a telephone "Information" operator. I held down a full time job at the local Honda motorcycle dealership during my off hours in the Navy. Some of the best years of our lives.
We moved back to Garland in 1971, got jobs, built a small house, and began raising a family. Son, Jeremy was born in 1972 and daughter Kimberly was born in 1976. We made one more change in residence, moving to our current address in 1976. In 2005, we became grandparents to Jeremy and his wife, Kimberly's daughter, Sarah Mackenzie.
In 1983 I lost my job at The Dallas Times Herald. We founded Airco Comfort Systems, Inc. (heating and air conditioning service). Judy answered the phone and I took service calls. The company grew to its current 12 full time employees (plus seasonal helpers). We started a second company in 1992 with an friend and associate. This new company, Quantrac Corporation, publishes, sells, and supports HVAC-specific software to other HVAC dealerships nationwide. We sold Airco in 2008, retiring from the heating and air conditioning business after almost 26 years.
Ken's Hobbies and Toys:
Judy tolerates (and often encourages) my total immersion into pastimes, sports, and hobbies that make me happy. She rarely denies me my boys toys. At the time of this writing, I've somehow made it to 60 years old; despite a few acts of stupidity and too much adrenaline along the way. My favorite "toys" include my home workshop and 35+ years of tool collection, two Harley Davidson motorcycles, and my airgun collection. The Harleys have been our latest acquisitions; which we both enjoy. In addition to holding a private pilot license with over 1,000 hours as PIC in gliders, and a ham radio Amateur Extra license, I'm also an avid bicyclist with a USCF racing license since 1986.
Our house is also my hobby. I've remodeled with major add-ons three times, doing most of the design, planning, and labor myself; sub-contracting only the few things I could not economically accomplish alone. I've also worked hard in the front and back yards, creating my own little enjoyable space. I remember hating yard work when I was in my youth. Now, I actually enjoy piddling in the gardens, mowing, edging, leaf-blowing, and doing other upkeep "chores".
I still bicycle a lot; logging up to 250 miles a week. Since 1986, I've averaged 7,500 miles a year. Although I still train and ride with active USCF racers, my racing career is all but over. It simply takes too much time to be a competitive bicycle racer. I make time for bicycling because it keeps me feeling young, fit, and healthy. As a result, I'm probably one of the skinniest Harley riders around.
Judy's Interests:
Judy enjoys reading, travel, and (of course) shopping. She especially likes sitting in a cabin in Colorado, reading her favorite novels, and shopping in tourist towns like in the Estes Park area. Judy was also apparently created to take care of a granddaughter, which she does very, very well.. Judy and I enjoy cruising, and have taken several cruises in the Carribean, one in Tahiti, and two in Alaska. Most of our travel together has been before our companies grew large enough to need us 24/7. We plan to make up for lost time now that we're unemployed.
If you have any questions or comments, email any time.